I took my daughter shopping one night over Spring Break. It's flip flop and shorts weather down here in Texas about 10 months out of the year, not to mention my girl gets taller every minute. She passed me up months ago.
Shopping with my teenager should be fun. And mostly it is, except for the actual clothes-shopping-part. It's so hard to find modest clothes. My teen doesn't even ask for the shorty shorts any more, even though it's challenging to find anything but in the stores.
"Why do they do it, Mom? Why do so many stores sell such immodest clothes for girls?" She was frustrated. It was a question I didn't know how to answer. I think about how girls are viewed in this world and in return, how they view themselves. How do I tell my 13 year old daughter that sex sells? But I do tell her. She's a smart girl and notices that some stores sell padded bikini bathing suit tops to 8 year olds.
It's time for moms to be offended and stand up to giant stores like Victoria's Secret and the way they sell sex to our daughters. Their new tween brand is called, "Bright Young Things," and includes lace black cheeksters with the word "Wild" emblazoned on it, green and white polka-dot hipsters screen printed with "Feeling Lucky?" and a lace trim thong with the words, "Call me" on the front. Source.
"Our country is replete with an unprecedented number of young girls suffering from eating disorders and body mutilation, while pushing the limits of sexual promiscuity. Is this racy underwear modeled by unrealistically thin girls really the best that we have to offer our girls? In this age when female sex trafficking is becoming a wide-spread crisis, reaching into the depths of our inner cities, is it really responsible for Victoria's Secret to entice our impressionable young girls with this "come hither" message?
Underwear that reads, "Call me" does nothing but cheapen a girl's self-esteem while exacerbating the objectification of her God-given femininity. Our children are being objectified by retailers who see them as nothing more than a path to increased profits."-Amy Gerwing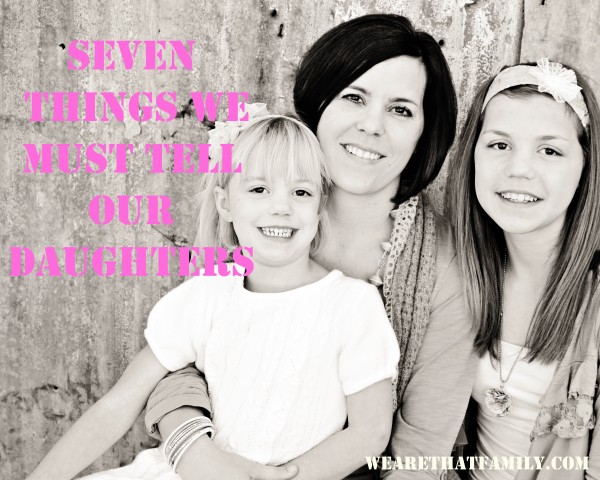 We live in a world that hates girls.

Too harsh? I don't think so. Globally, did you know that more than 200 million girls in our world have been aborted or abandoned in what is being called a "gendercide?" Many who survive, face neglect, violence and most likely sex trafficking. We might feel detached from this epidemic on this side of the world, but we aren't. The Super Bowl is the biggest day for sex trafficking in the world and most major cities including the one closest to me, is a hub for young girls to be sold into sex slavery.

Coupled with the pornography industry, when you consider every second, 28,258 Internet users are viewing nude images of somebody's daughter, it's more than disturbing. Source

Yesterday I read about a young girl who was raped. She was just six years old. I've heard of horror stories like these thru our work at Mercy House, but this wasn't in distant Africa. It was in our county, 20-something miles away. I have an innocent six year old and I am sickened by the crime against this child.

And as if all that isn't enough to turn a momma gray, the surge of aggressive girls taking the initiative with guys at a very young age, trying to lure them into sexual activity has increased dramatically :

What in the world is happening?
What is going on in the hearts of some young girls that causes them to be so assertive? I think there are several reasons for what we are seeing: (from Family Life)

You can finish reading the article at the following link We Are That Family Blog (fantastic blog)